Science Introduction Workshops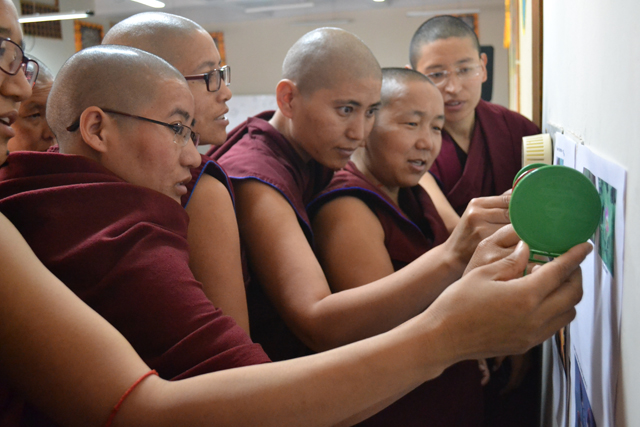 In May 2013, the "Conference on Development of Education of four Major Tibetan Buddhist Schools and Bon Tradition" took place in Dharamsala, attended by delegates from all 51 Buddhist monasteries in India and Nepal. Among other things, the conference representatives decided that Western natural science should be introduced as an educational subject in the foreseeable future in all monasteries (and not exclusively in those of the Gelugpa tradition, where this is to a certain extent already the case). It was also decided that until the individual monasteries are able to begin regular instruction, "Intensive Weeks" including scientific topics should be introduced intermittently.
In addition, SmD has developed a one-week "Science Introduction Workshop" which, in collaboration with the Ministry of Religion and Culture of the Tibetan Exile Government, will be offered in exile monasteries in all areas of India and Nepal. For a start, the question should be clarified as to why and how Western natural sciences should be taught in the monasteries. In addition, through the use of concrete examples in mathematics, physics, chemistry and biology, including numerous observations and individually carried-out experiments, the participants will be offered a gateway to Western natural sciences. Rather than memorizing, it is more important at the moment to demonstrate to nuns and monks how natural science experimentation and deduction works.
In 2015, four such workshops were carried out in Dharamsala, Kathmandu und Dehradun. One can say that the goal has been reached when at the end of the course (as happened recently) one of the nuns, full of enthusiasm for her personal discovery, declared that: "there are also male and female organs and the same reproduction processes in the plant kingdom".
In 2016, five workshops took place in the following monasteries: Menri in Dholanji, Mindroling in Dehradun, Keydong Thukche Choeling Nunnery and Gelugpa Association in Kathmandu. For the monks of last year's course at Mindroling, a six days follow-up workshop was offered. So the monks could build on their previous experience and knowledge, and they could intensify their own scientific inquiry. The over-all topic for such inquiries were the sense organs of animals and humans.
In 2017, five introduction workshops could be realized in different places, which in part were quite 'off the main roads' (Rigon Thupten Mindroling in Chandragiri, Sakya Thubtenling Namgyaling in Puruwala and Mindroling in Dehradun). In Chandragiri, a Level 1 workshop was immediately followed by a Level 2 course. For the first time, we had a chance to teach in a Sakya Monastery and found a very positive echo from the monks' side.
In 2018, the focus was on nunneries. Altogether three Introduction Workshops were held at level 1 (Bön Nunnery in Dolanji and two parallel courses in the Keydong Thukche Choeling Nunnery in Kathmandu). In addition, two level 1 workshops were held in the Sakya Monastery in Mundgod, while a level 2 workshop was realized in the Menri Monastery Dolanji.